Welcome to the Hottest Phone Sex Site on the Internet!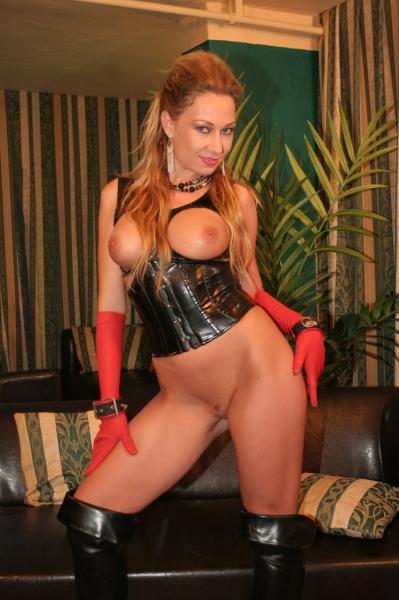 Mistress Payne
Are you trying to find a dominate, sadistic, phone sex domme to control your every move? Well look no more you have found her. I specialize in teaching little bitches like yourself complete and total submission. I can be extremely wicked so don't let that occasional smile fool you . Hearing a man beg makes my pussy so wet. Look at it I know you want to touch it. Perhaps this is where I will introduce my skills in tease and denial phone sex. I cum very experienced with strapon play, feminization and devices such as riding crops, bull whips, ball gags, weights and nipple clamps.

Before you know it you will be my slave and I will have you begging for mercy. Call 1-800-485-9561 now for some anything goes domination phone sex.

Specialties include: Femdom, Hardcore bdsm, sensual domination, cbt, sissification, division fetishes, humiliation, assignments, cuckold, spanking phone sex, tease and denial phone sex, castration phone sex, forced bi phone sex, contractual slavery, small penis humiliation, shower phone sex, strap on phone sex and much more.

Tags: female dom / female dominator / femdom / femdomme , a dominatrix; a woman who assumes the dominant role in BDSM scenes; the female equivalent of dom. Bitch goddess; corporalist; discipliness; domina; dominant bitch; dominatrix; dominatrix bitch; domme; femdom; femdom goddess; goddess; headmistress; mastix; mistress; mistresse; phallic woman; taskmistress; top. Courtesy titles such as countess, domina; marquesa, lady, mistress, mistresse,
Call me to see if I am available at 1-800-485-9561
Mistress Payne's Latest Pictures
Mistress Payne's Latest Shouts
This is the moment of Payne, the day you take it all the rest of the way. We can go as far as you need, and as harsh as I love .. it's time you paid the price...
posted 6 years ago
You want it harsh and believe you me, harsh is just what you're going to get. You need hardcore fetish domination and you need to be told what a sissy loser you really are, humiliation gets you off!
posted 6 years ago
Today's the day you show me how pretty you beg, and tell me just what a loser you are, admit it, confess it, show me that teensy cockette and then apologize for it!!
posted 6 years, 1 month ago
You need to be told what a pitiful little Loser you really are and I want you to CRAWL to me, that's right ....crawl, hands and knees. I'll gladly mock your teeny weeny if I can just find it hahaha!
posted 6 years, 1 month ago
Need to feel the Payne? Come on you know it's time you had some phone sex domination and humiliation that really puts you in your sissy sub place!!
posted 6 years, 1 month ago
It's the time of day where you get on your knees again and kiss my feet. That's right, apologize for that tiny cockette .. begging me for forgiveness might work.
posted 6 years, 1 month ago
Feel the Payne, your Mistress has a place for you today, right at her feet. Shouldn't you be kneeling, and asking for her permission to even exist? Shouldn't you .. be calling and submitting?
posted 6 years, 1 month ago
Your time has come, I'm going to show you what manners are today. You need a dominant femdom Mistress, and that's just what you get with me, you're just the kind of sissy Sub Slave I am looking for!
posted 6 years, 2 months ago
Start your day with some Payne ....Mistress Payne, that is. Can you take what I have for you? If not .. just crawl away. If you can.. get on your knees and whimper for me!
posted 6 years, 2 months ago
Mistress Payne's Latest Audio
There is no audio at this time
Mistress Payne's Private Blog
That Sweet Payne ...
Jul 29, 2015
Such a sweet Payne, I have for you, little maggot! Such a delicious demonic desire, to hear your cries, to know that you are crawling for me and me alone, that I own you, body and soul, all your passions are nothing to me, because you Serve Me. What I want is what matters, isn't that right, my crawling worm? Just like a puppy you sit and beg, whimper and whine, pleading for mercy from your Lady, your Queen, your Mistress. Mercy that will never, never come, because I am a harsh Domme and I will make you mine to the greatest degree I possibly can. Nothing you want matters, nothing you feel, nothing you ask for or say, you live and exist and breathe to please Me.

Me.

Do try to remember that.
Are You Really A 'Man' ??
Jun 19, 2015
When I do the calls I love the best, the extreme phonesex, the domination phonesex, and the humiliation phonesex, the ones where the guys really want me to tell them what I think of their cockettes, their need for their so called small penis humiliation - I tell them that if they want to know what a fail they are, if they want to really get that they are sissy loser faggots then all they really need to do is look DOWN. Not that fucking hard right ?! Just look down, and by all means bring a measuring tape, or should that be a magnifying glass ??

A man who wants to be told about his small penis, who needs to be cuckolded because his cock is so tiny and he can't even hope to ever measure up and satisfy his woman, a man - and I use the term very loosely - who actually wants and needs to be told this, will get just exactly what he asks for when he calls me for some hardcore humiliation and dominatrix phonesex. It's my great joy to tell you you're a little loser sissy, a little bitch fit only to be a paypig, that's right a little paypiggy crawling to please your domme. The only joy any woman can ever get out of YOU is from your fat wallet, otherwise? You're pretty much just a sad microcock loser!!
It Hurts So Good, Doesn't It?
Jun 11, 2015
So how much Payne can you really take, my crawling Slave? How much wire wrapped around your balls, as you lay there in willing agony, giving yourself over to me so completely. I listen for the dreaded 'safe word'. I always respect it but oh how I hate to hear it, because it tells me you can't take it, and it makes me see you as even more of a weak willed little sissy boy loser DISGRACE. It tells me everything I need to know about you, now doesn't it? Domination phone sex is one way you can satisfy your need to be treated as a submissive bitch boy to a strong Mistress, get your kicks from hearing the truth from a Humiliatrix who doesn't pull punches! You want to have humiliation? Small Penis humiliation was never supposed to be clit humiliation .. shit, if you want me to mock that thing I gotta see it first!

You want to be a cuckold, watching a bull take your wife while you sit there and watch like the worthless sissy you really are. You want to dress up for me and have me tell you what a crossdressing slut you are, what a whore girl for cock. You know you need Payne .. the question is ...HOW much Payne is enough ??
Are You In Payne?
Jun 03, 2015
I knew this man had no idea that his wildest dreams were about to come true.

The first rule of a real, true, high quality domme is to never engage with anyone who is not consenting willingly to be Servant, Slave and Submissive. If they are in any way uncertain, yes, by all means, try to convince them of what they need, if that yearning for domination is there in their eyes. But they need to understand what they're getting into. That's where safe words were born, after all, there has to be failsafes, and it has to be consensual humiliation, small penis mockery, bondage or any version of BDSM.

Once it's established that it's mutual, this desire to see the man on his knees to his Goddess, his Mistress .. his Domme.. once that is for sure, then the real fun can begin for both parties involved.

And so this man had come to me, seeking a stern hand, a strong hand. He said openly he wanted to be able to be at the feet of a powerful dominatrix, and I gave him that and more. His eyes widened and I could sense his pulse racing as I quickly made my dominance in effect, and his submission to me was willing and desperate. Oh, how he needed this. And I gave it all to him, from the lashes across his back, to the spiked heel on his face. By the time he walked - limped - away?

There was no doubt in either of our minds.

He was mine, forever.
Let's Hear Some Begging
May 27, 2015
I see you there on your knees to me, I see that look on your face of need and yearning, and the fire that burns in the eyes of a Submissive who realizes his Mistress holds his entire Life and Soul in her mighty hands. You know my power is over you, and if I say you receive no pleasure, then that's just exactly what will happen, you will slink away -- when I allow it-- unsatisfied, empty and alone.

Just perhaps wondering how you have failed me AGAIN....

Perhaps this will be the day you please me. And I find it in my ice shrouded heart to actually allow your sad cock to find its release, to spray your slave-seed all over the floor where you are kneeling. Or ..it might take a bit more, hmm? My teasing you as you're tied up spread eagle on my bed, legs apart like my whore. You are, you know. You're my bitch, nothing more, nothing less. Your pain is my pleasure and if you can take it -- can you ?? - I will enjoy every scent and sound as I pour hot oil over your trembling flesh, twist your balls till they are straining remain attached, and wrap your cock up in something ...deliciously horrific.

Can you take it?
What others have to say about Mistress Payne
There are is no feedback at this time