Welcome to the Hottest Phone Sex Site on the Internet!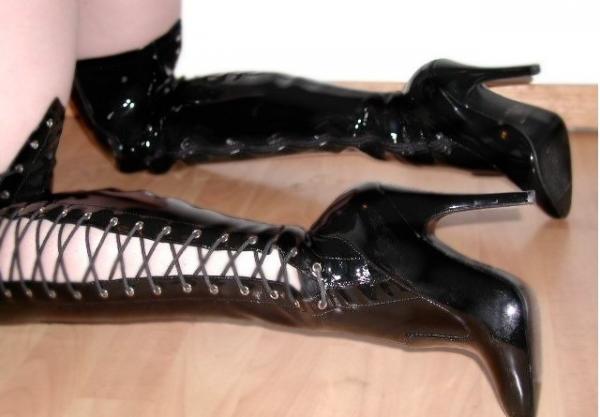 Mistress Vikki
Hello slave,
Now you know what to do. Greet me by kneeling down and kissing my boots. You know better then to misbehave other wise I will kick you in the balls, lay you out and prepare you for your ball trampling and crushing punishment. My feet own your cock and balls and you better pamper them until I am satisfied. Don't let my sweet smile fool you. It is obvious that stomping on you with my numerous pairs of boots and shoes gets me off. Depending on my mood I may just let you get off as well. Call me for some of the best phone sex you have ever had at 1-800-485-9561.

Some of my other phone sex specialties include: bdsm phone sex, leather phone sex, latex phone sex, mature phone sex, fetish phone sex, trampling phone sex, spanking phone sex, wrestling phone sex, squashing phone sex, leg worship phone sex, foot fetish phone sex, leg fetish phone sex, mommy phone sex, tease and denial phone sex, humiliation phone sex, tattoo phone sex, small penis humiliation phone sex, cuckold phone sex and more!
Call 1-800-485-9561 to see if I am available.
Mistress Vikki's Latest Pictures
Mistress Vikki's Latest Shouts
There are no shouts at this time
Mistress Vikki's Latest Audio
There is no audio at this time
Mistress Vikki's Private Blog
You need to be punished!
Dec 12, 2011
You didn't think I would find out did you? Well, you little cocksucker, I did. Just what do you think I should do about it? What, cat got your tongue? Nothing to say? Well, listen up, you worthless little slave! You will never take my boots and put them on ever again!! I am going to make sure of it!

Now, come over here, you know the drill. Take off all of your clothes and put those cuffs on your wrists. My playtime is about to begin, and you have been a very bad boy! I have a new riding crop, I just picked it up. Do you see what is so special about this one? I do! It has little tiny metal bristles on the end of each little strap. Gues what happens when they make contact with that tender, soft, little sissy boy skin of yours? That's right! Don't look so scared! I won't hurt you too bad, I will only teach you a lesson.

But first, assume the position! Get on those knees, open your mouth and stick out that tongue. You had better start licking those boots until they are absolutely spotless! You soiled them when you decided to walk outside wearing them, thinking you are so special! Well, you are not! You are nothing but a worthless piece of dirt, just like what you are licking off of that sexy boot of mine!

Now, are you finished yet? Good! Stand up! The lesson is going to start! I am flipping the switch, and you know what that means! Those cuffs are going to be pulled apart and you will be spread eagle by the time they stop! Are you ready? No, well too fucking bad! You had better not forget to count each time that crop strikes your body.

I don't hear you begging yet? Listen up, you grubby pathetic worm, you had better start begging for your life! Of you will never see the light of day again!
That's better! Now, begin counting.

Perhaps there is some use for your disgusting ass yet! Call me and we will see!

Mistress Vikki
The Princess and My Gorgeous Sexy Pet.....
Nov 19, 2011
I surprised you today. Coming over as I did, I loved finding you at home with Princess and the body guards. I know how much you love your "special" time with your stylist. Tell me, didn't you just love those fabulous silver stiletto heals that he was wearing, the silver polish on his nails was just divine. I thought my lovely bracelet gift that I had for you, the platinum and diamonds with the red ruby heart center, was perfect contrast for your black gloves. The two of you looked gorgeous together.

I watched you today. I sat in my special chair, those big black bodyguards on either side of me. I watched and they watched. Watched you and Princess, that is, stroking and touching and tasting each other on the bed. We watched as you swallowed Princess and licked every last drop of his milky love juice, then watched as he did the same for you.

I untied the laces that ran down the front of my long black skirt and parted my legs. As I went to touch myself, my hand was stopped and each bodyguard started touching and stroking me, finding the heat at my center. They stroked me and plunged inside of me as I watched you and Princess love each other. I climaxed watching you take each other in your mouths, feeling those long fingers deep inside of me.

They were on their knees in front of their Mistress Vikki, their queen. They had a question in their eyes and waited for an answer. I nodded and they stood, removed their pants and with large, well muscled arms, lifted me up and had me straddle him in the chair. With my long booted legs on either side of him, he filled me, stretching my pussy wide. I felt that second cock slide up behind me and entered my ass with one swift thrust. I came almost immediately, but we were far from over. We fucked for hours, so did you.

When I had enough, I sent the bodyguards and Princess away. It was my time with my special gorgeous pet, and he had some cleaning up to do. I stroked your head as you licked me clean. GORGEOUS!
What others have to say about Mistress Vikki
There are is no feedback at this time