Welcome to the Hottest Phone Sex Site on the Internet!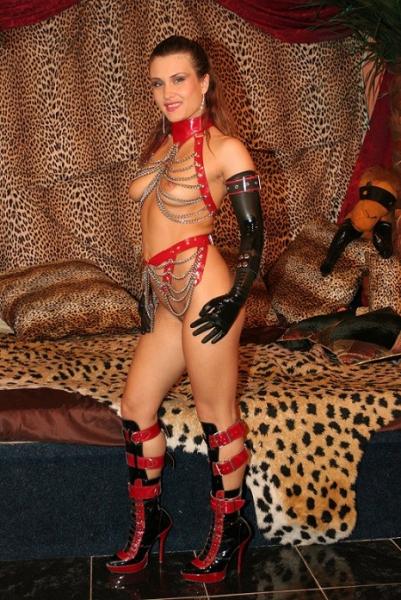 Mistress Helena
Hmmm let me start off my saying I like my slaves on their hands and knees with their cheeks spread. I am a kinky bitch with a very high sex drive.

For example the other day I got a hold of one of my slave boys for a daily piece of ass, he didn't realize what was about to happen until I grabbed my strap-on dildo and thrusted my way into his tight asshole.

Fucking men in the ass is what gets me off. I like to use their mouths but using their ass is what makes me squirt. I do all forms of domination so if you are looking for something else other than anal play I engage in various other forms of sissy play, sensual domination, foot worship, various forms of humiliation and more!

If you think you can handle me call me at 1-800-485-9562 for some no limits domination phone sex.

Other fetishes I can discuss with you:)

Leg worship, Ass worship, Foot worship, Body Worship, Teasing and denial, Orgasm denial, Masturbation instruction, guided masturbation, masturbatrix training, panty fetish, pantyhose fetish, heels and stockings, men wearing panties, small penis humiliation, verbal humiliation, masturbation humiliation, cuckold humiliation, group humiliation, armpit/body odor humiliation, pervert humiliation, foot fetish, shoe fetish, boot fetish, boot licking, boot worship, shoe dangling, toe sucking, shoe domination, messy (food stepping) crush fetish, cuckolding, slut wife, creampies, feminization, sissification, crossdressing, sissy maid training, cock teasing, panty-teasing, blue balls, extreme teasing, medical fetish, breast enlargement, transformation fetish, giantess, shrinking, collar and leash training, anal training, boot camp fantasies, interrogation, gloves and hands fetish, queening, smoking fetish, spitting, body worship, cum eating, cock tease princess, eat your own cum, male chastity, orgasm edging, panty fetish, public humiliation, strapon phone sex, auto-fellatio, snowballing, Sci-Fi Fantasies, tickling, wrestling, boxing, strap on pegging, stroke for me, foot worship, fluffer, showers, flatulence, and more!
Call 1-800-485-9561 to see if I am available.
Mistress Helena's Latest Pictures
Mistress Helena's Latest Shouts
You know you want to feel my big strap-on stretch your ass to new limits. So, call me NOW!!
posted 6 years ago
Call me NOW to get your ass punished properly! I know how to fuck you with my big hard strap on and make you cum all over yourself.
posted 6 years, 1 month ago
I want you to call me NOW. I need to fuck a tight little asshole and make it mine. I want to hear you scream with pleasure as I fuck you hard and deep while I squirt all over your ass cheeks.
posted 6 years, 1 month ago
You haven't called me in awhile and you know you need to be punished. Call me NOW, so I can give you a good ass fucking and train you to be a better servant.
posted 6 years, 1 month ago
Leck meine Stiefel Sklave! That's right, lick my boot slave! Call now for your daily dose of humiliation, punishment and general domination. U know you have no will power......so call me now! SHNELL!
posted 8 years, 1 month ago
Woo! Busy morning! Been handing out punishments all day! You better call for yours quick before my phone rings again! So go put on your collar get naked and on your knees and dial slave! Mistress and her wooden paddle are waiting!
posted 8 years, 11 months ago
Hello Slave. Are you ready for your punishment? If you are a good slave, I might let you kneel and lick my boots! Cum please me...or else! Helena
posted 9 years, 2 months ago
Sissy Boy Training. Only true sissy boy's need apply. Mistress Helena is waiting. Call 4 your punishment and training session now!
posted 9 years, 8 months ago
Sissy Boy Training Class. Inquire by Calling Mistress Helena. Only true sissy boy's need apply!
posted 9 years, 9 months ago
Slave, you know you want to feel my BIG, FAT dildo stretching your man-cunt. Call your Mistress NOW!
posted 9 years, 11 months ago
Mistress Helena's Latest Audio
There is no audio at this time
Mistress Helena's Private Blog
You Crave to be Punished
Jun 01, 2014
I think you purposely do things to upset your Mistress just to get punished. You know your enjoy being a sissy slut, and your ass cunt craves to be filled with my big black cock.

Again, you were disobedient. You know the cost. My friends are all in the living room waiting to start your punishment. First, we dress you up like a real slut with bra, thong panties, heels, and slutty make-up.

Next, I have you get on your knees and go from person to person, man and woman and use your mouth to pleasure their pussies and cocks. You have to please all 10 people in the room without complaint or your punishment will become worse.

Once you're done pleasuring my friends, it is their turn to have some fun with you. I've passed out assorted toys to everyone to use on you, as they will.

One of my friends wants you to walk over, in a sexy way, and bend over in front of her. She moves your thong aside, and slides a long, ribbed dildo into your ass cunt...fucking you like a bitch.

My male friend, is next. He has a speculum to spread your hole wide open for all of us to see deep inside you....Oh my look how open you are, my male friend decides to fill you with his hot golden liquid. Your hole takes it all without spilling a drop. You are such a slut.

Now it's my turn. I take you and bend you over the coffee table. I tie each of your legs to the table legs and your arms to the other legs. You are "spread eagle and helpless. One of my friends pulls your cheeks apart so I can penetrate you my big, fat, black cock. While I fuck your mangina, another friend fucks your mouth.

I keep fucking your hole looses all it's resistance. You pathetic clitty cock cums all over the table. My friend has his cock down your throat and makes your gag on his cum, you can barely breathe...tears running down your face, lipstick smeared. He takes his cock from your mouth and mine from your ass.

I stand in front of you. You say "Thank you Mistress for caring so much for your slave."
Lick my boot Slave!
Mar 31, 2011
Hey Sissy Boy - You have been bad and you need some punishment so call so I can crack my wooden paddle on your sad little pussy ass!

You know you want it....I'll put you in my undies, and dress you all up - then use my strap on to make you my little fuck toy! You know you love your punishment, so lick my boot slave, or you will be dealt with severely.

CBT, cock and ball harness, cum deprivation, humiliation, collar and leash, and if you are a good dog, I'll let you have some guided mastrubation, along with cum deprivation! You know you want to be my new toy don't you?.

Why aren't you picking up the phone?

Do it NOW!

Mistress Helena
What others have to say about Mistress Helena
OMG, she's certainly good at what she does...flexible enough to try new things an boy can she play the part -
she fucked my ass damn good - dave